Happy New Year!

I hope you enjoyed time with family and friends over the holidays, and I hope you are excited about the year ahead of us. Thank you to everyone, including past and present clients and all of you who have advocated for me and helped my business grow. Jeff Hamilton and I finished 2019 strong, and placed ourselves as the top-producing team in Tahoe and the top two brokers at Sierra Sotheby's International Realty.

Next week I will have a full report on 2019 in my "Year in Review" newsletter, where I will discuss the market data we are analyzing now. It was a good year!

In the meantime, I'd like to start the year off with some positive news and share my outlook for 2020. Since the new year/decade started we've already seen 39 properties ($43M) go into contract and 20 properties ($21M) close in the Tahoe Sierra and Incline MLS's. Ski conditions are good with more snow on the way, which helps fuel buyer enthusiasm. Stocks picked up right where they left off in 2019 by touching all-time highs. And Bonds, which also performed well in 2019, continue to hover near three-year highs, keeping home loan rates near three-year lows. So, I'm feeling pretty good about what's in store for the Tahoe real estate market this year. Following are other reasons for my strong optimism:

​​​​​​​$1,000,000,000,000. That's a lot of zeroes! This is the amount U.S. consumers spent in holiday retail shopping in 2019. This massive record highlights the strength of the U.S. consumer who makes up 70% of the U.S. economy. Bottom line: There is no recession in sight, great news for housing and the overall economy.
The Fed. There doesn't appear to be any chance of a Fed rate hike in 2020. The Fed is fighting disinflation, so a rate hike would counter those efforts. Moreover, it's a presidential election year and the Fed has historically tried it's best to avoid any monetary policy moves in those years. Bottom line: Good for Stocks and less good for Bonds.
Stock Gains. Post-World War II, Stocks on average have gained 10.1% in presidential election years where the incumbent is up for re-election. It's tough to fight that trend, even with Stocks soaring in 2019. Bottom line: Stocks are set to finish 2020 higher.
Realtor Feedback. In conversations with my colleagues in other markets around the country, agents are saying they're off to a strong start in 2020. The Bay Area market, our primary feeder market for Tahoe, is experiencing an uptick in sales activity. Bottom line: Tahoe historically follows the trends of the Bay Area markets; when they do well, we do well.
Home Price Sentiment Index (HPSI). "The continued strength in the HPSI attests to the intention among consumers to purchase homes. This is consistent with the Fannie Mae forecast for 2020," said Doug Duncan, Senior Vice President and Chief Economist. "The HPSI hit and remained near an all-time high in 2019, driven by the 16-percentage point year-over-year increase in the share of consumers believing it is a good time to buy." Bottom line: The HPSI's strength supports our prediction of a healthy housing market in 2020. Enjoy the visual: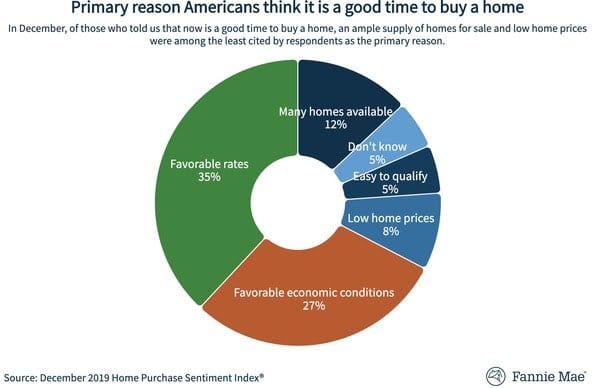 In summary, the Tahoe market is resilient and 2020 is shaping up to be a great year for housing and the U.S. economy.

​​​​​​​Furthermore, we have a healthy supply of properties for buyers to choose from.