I want to take a moment to share an update on the state of our real estate business. I have been blessed to work with such a remarkable brand as Sotheby's International Realty. Although this year has been challenging in so many ways, our company has stayed focused on helping our clients achieve their real estate goals and dreams. I'm pleased to announce that our company achieved nearly $90 billion in U.S. sales volume in 2020 through Q3. Our domestic business surged more than 61% in Q3 2020 versus Q3 2019.

These past seven months presented us with a unique shift in the real estate industry; and the changing needs of luxury customers during the COVID-19 pandemic played a key role in our sales volume increase. The result was a 106% increase in U.S. closed volume sales in the $2.5M – $10M USD range in Q3 2020 compared to Q3 2019.

To focus on the market you care most about, below are the October numbers for our Sierra Sotheby's International Realty offices in Tahoe. I'll let the numbers do the talking here: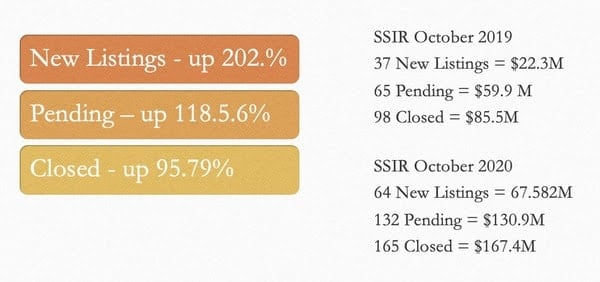 You have been a critical part of our success. I appreciate your trust, confidence, friendship and business. If you are considering taking advantage of this market and want to discuss the possibilities of selling your property, now is the time. The market is starving for inventory!